WE OFFER A VARIETY OF PRODUCTION SERVICES TO SUIT EVERY NEED
Let the team at ProAngle Media handle your production.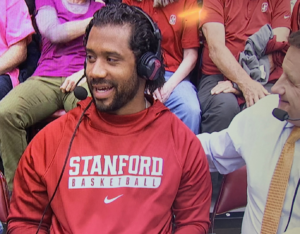 ProAngle Media has been providing production services for our clients since 2005 and has become regarded as a leading independent producer of sporting and entertainment events in Southern California and throughout the country.
With a staff of industry leaders, state-of-the-art equipment, and utilizing its nationwide network of top freelancers, ProAngle has the has the experience, equipment, personnel and expertise to provide top quality sports and entertainment production services anywhere in the country.
Since launching with our first production, a Lakers telecast, we've been responsible for thousands of productions for our satisfied clients. 
In addition to television events, ProAngle Media has a significant online component. We've worked with a number of clients to create a web solution that brings a previously under-promoted online event to the masses. Online partners have included the Dodgers, Lakers, Chicago White Sox, Raiders, Nike, Walmart and Southern California Special Olympics, among others.
Planning Your Pre-Production
Look to ProAngle to televise, webcast and set up your sporting, musical, entertainment or commercial event.
ProAngle designs sets and cable and camera layouts, and acts as a liaison between content creators and distributors to ensure that the needs of both sides are being met.
We've acted as a de facto production department for a number of our clients who have had little to no experience in putting on an event.
ProAngle can add to your preexisting design or start from nothing and develop all of your design and production needs, providing you with all of the answers to your event planning questions.
Post-Production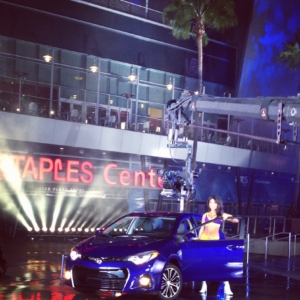 Even though we're known for our production work in a live environment, we are also able to provide some of the best post-production services anywhere.
Our team of editors can put together full-length programs, commercials, features, graphic elements, live streams and social media content to meet any of your needs. At ProAngle Media, we've been responsible for the creation of hundreds of hours of pre-produced programming.
Additionally, we've:
Produced, shot and edited commercials
Created graphics and element packages
Written and produced countless features
Produced and streamed shows and podcasts on Facebook, YouTube and Twitch
Our Equipment
ProAngle Media has the equipment and gear needed for your production.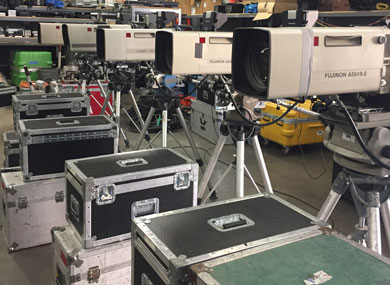 ProAngle Media is a self-contained production house, with fully equipped production HD trucks, a portable fly pack for smaller productions and an extensive inventory of gear.
Each production truck is equipped with the following:
Multi Camera Ross or TriCaster switcher
Duet or Xpressions graphic system
Large Monitor wall with the ability to arrange and rearrange desired inputs
3Play Replay and playback system that is capable of 8 inputs and 2 out put channels
Control Room Speakers and Talk Back
A full audio kit, including lav and stick mics, NAT mics, control room speakers and talkback.
Audio Board and full mix panel with IFB routers
Video Control Panel with individual Camera Controls
ProAngle Media offers highly customizable production gear and packages.
Full light kits with gels
High Definition Panasonic Cameras with tripods
Full audio kits with IFB, lavs, stick mics and all necessary cables and equipment
DVC ProHD decks
ProAngle Media also offers full HD production units known as "fly packs." These units provide a multi-camera production without the size and power requirements of a full production truck. Each unit contain:
A full audio kit, including lav and stick mics, NAT mics, control room speakers and talkback.
Audio Board and full mix panel
Video Control panel with individual camera controls
Producer/director area with HD monitors
HD TriCaster switcher
3Play replay/playback system
World-class creative services   –   Cutting-edge live productions   –   Intelligent budget solutions